The festive season is one of the busiest times in the railway calendar and 2021 was no different, with the South Rail Systems Alliance (SRSA) teams once again going above and beyond to keep the UK railways moving during Christmas.
Here's a round-up of what works our divisions completed during this crucial period.
Old Oak Common – Early Works Package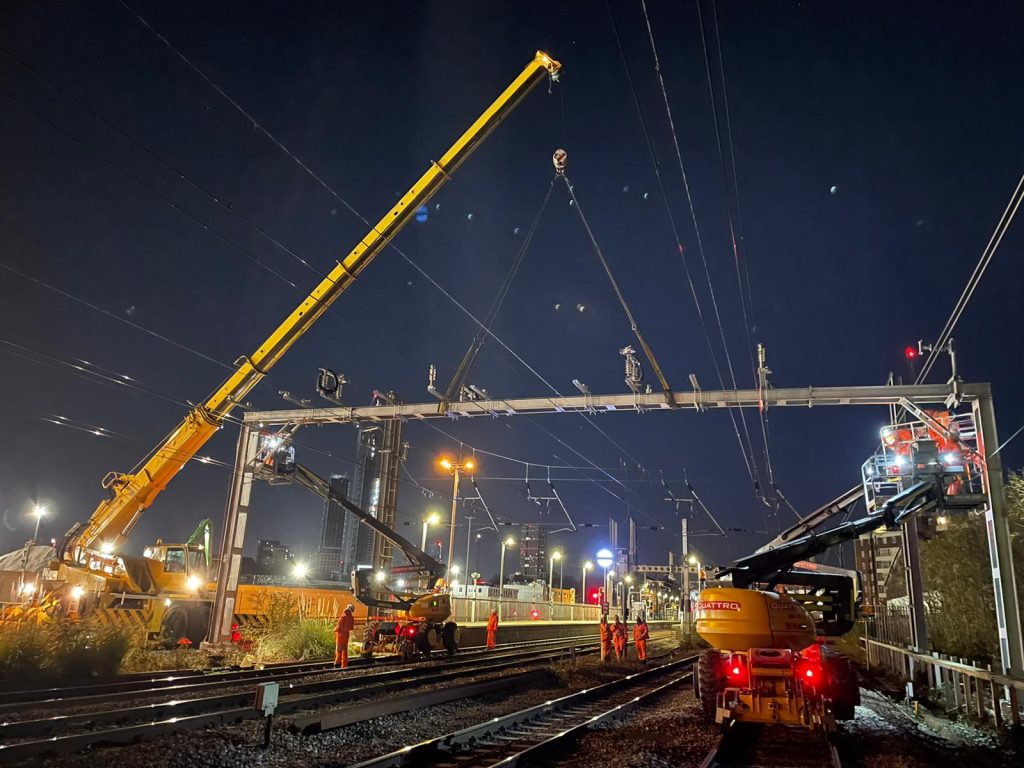 After completing their handover to High Speed 2 (HS2), the team at Old Oak Common have wasted no time in starting work as part of Early Works Package A.
Over the past months since the project began, they have been implementing Acton Switches, where they aim to reduce disruption by facilitating a new isolation regime for future HS2 works. In addition, the team have relocated two location suites to enable track alignment changes that will come with the new HS2 rail systems works.
During Christmas, the OLE team worked on switch connections and for preparing one of our location suites for commissioning. As well as the works at Christmas, the team have been working on the relocation of a Under Track Crossing (UTX) chamber and a new Road Rail Access Point to provide access for the next 2 years of the construction programme.
Anglia – West Ham Drainage
While also navigating through the intricate renewals after a derailment at DP World London Gateway, over a five-day blockade in the Christmas Period Colas Rail UK's Team Anglia delivered a drainage renewal at West Ham under Any Line Open (ALO) conditions.
These works were required to restore a functioning track drainage system, minimising the risk of wet beds developing in the track. This consisted of 270m of drainage across the Up Cess & 6ft as well as 3 cross drains to link them together.
Bristol – Stoke Gifford & Filton East Curve
Team Bristol were out in force over the festive period working across two sites in north Bristol, with a total of 1040m of CAT 11 plain line renewal was completed at Filton east curve which consists of re-ballast re-sleeper and re-rail.
Upon completion of plain line works the team moved to the renewal off 8706 and 8705 points at Stoke Gifford where a Kirow 1200 was utilised to install the large S&C panels.
Kings Norton – Paddington Line 3
Working on a 52-hour possession starting on Christmas Eve at London Paddington, our Kings Norton team completed 201m of CAT13 renewals.
The construction programme included all the welding and stressing, this was achieved using three engineering trains, a tamper and six road rail vehicles.
Tonbridge – Courthills Junction and Pouparts
Lastly, our Tonbridge team handled two major sites over the Christmas and New Year's period, delivering the third and final stage of the construction programme at Courthill Junction, Lewisham, Surrey.
Stage three of the scheme started on Christmas Eve involved the renewal of 872, 868 and 866 point ends, with the works completing on the 4th January.
Team Tonbridge were also based in Pouparts Junction, located near Clapham Junction where they completed the renewal of the 278 & 279 point ends and associated plain line track. These works form part of the Victoria 3 re-signalling and were also part of CP6 Sussex Track Renewals upgrade programme.
All works highlighted were completed safely, on time and everyone got home safe to enjoy the rest of the festive season with their families.
The SRSA is comprised of Colas Rail, Network Rail and AECOM, an alliance created to deliver a portfolio of works across the southern region of the UK over a 10-year period.