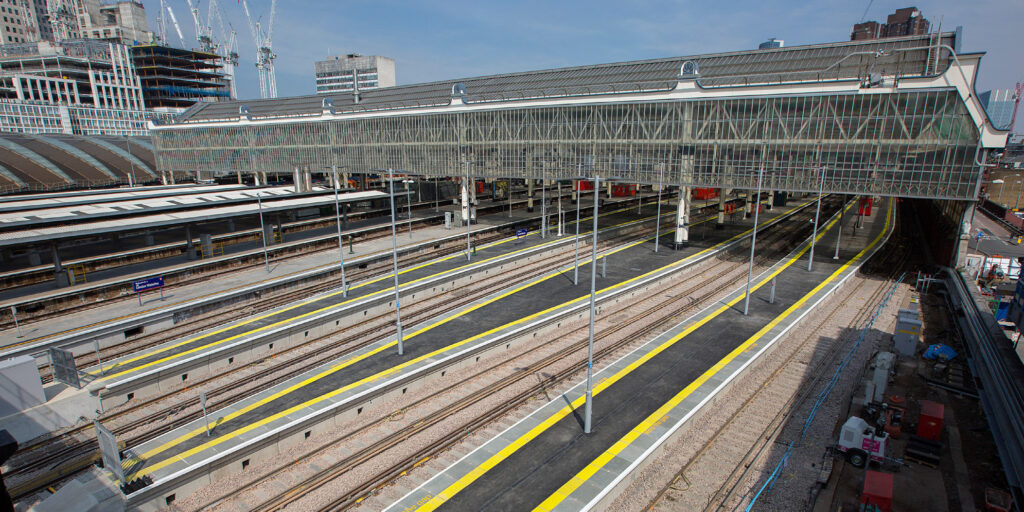 The three week blockade took place last month at Waterloo Station, where a strict programme of works ran smoothly, with all platforms being handed back with only minor delays to Network Rail.
The part closure of the busiest station in the UK was always going to cause major disruption to the travelling public, however, according to a panel survey undertaken by Transport Focus who were asked by Network Rail to monitor passenger awareness and level of engagement, found that 72% of passengers felt that the works were handled well/very well with nine out of ten being fully aware of the upcoming works before works commenced, which is largely a result of the efforts made in advance of the closure by the stakeholder engagement team who form part of the alliance.
On completion of the blockade Becky Lumlock, Route Managing Director at Network Rail said "Network Rail has now fully reopened Waterloo station after completing one of the largest and most complex upgrades in the nation's history. I wish to thank all those involved for the excellent work and commitment in completing this project in such a short period of time."
Jean-Pierre Bertrand, Colas Rail CEO said, "I wish to underline the outstanding performance of the whole Alliance Team under the leadership of Riccardo Zampieri and thank all those involved for the excellent work and commitment in completing this complex blockade in such a short period of time. Colas Rail brought to the Alliance all the strengths from the Rail Infrastructure division led by its Senior Vice President, Ondrej Roubicek. Congratulations to all of them!"
Looking back over the lead up to and the delivery of the blockade works Rory Mitchell, Project Manager for Colas Rail on the Wessex Capacity Alliance said. "So proud to be part of such an amazing project at Waterloo. Still months of hard work ahead with at least two more signalling stages but it's great to be past the milestone of the August blockade. It seemed so far away when the sponsor told us about it on day 1 of the Wessex Capacity Alliance in January 2015. Brilliant work by all members of the alliance (Colas Rail, Skanska, Network Rail, Mott Macdonald and AECOM) and our large supply chains – and it couldn't have been achieved without our S&C South Alliance partners, NR local maintenance teams and Works Delivery or the support from the Wessex route. Hopefully a model for all future massive interventions by NR".