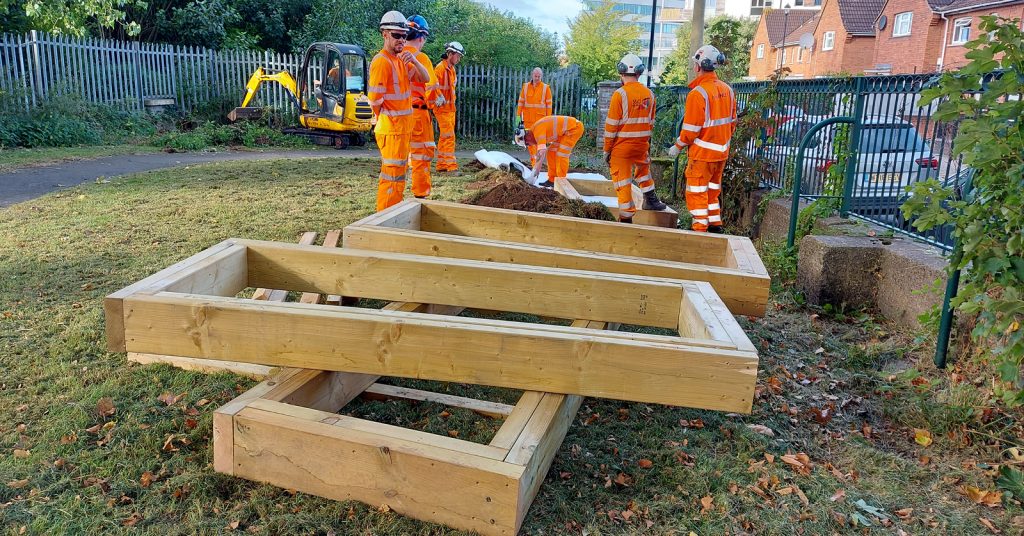 During the late summer of 2021, the South Rail Systems Alliance (SRSA) Bristol East Regeneration team returned to the area as part of a volunteer Social Value Community Day at Dings Park.
Dings Park is a local park to the Bristol East site which was subsequently utilised as an entry point for the SRSA during the eight-week summer blockade.
The team was compiled of SRSA staff volunteers, including Colas Rail UK, Network Rail as well as various subcontractors and suppliers that formed the Bristol Rail Regen.
Before and After!
Before arranging the CSR day, the team engaged with local communities including the Dings Park Youth Club and representatives of Dings Park Community. It was unanimously agreed that the SRSA would reuse the materials of the site and temporary access point to create a circular economy and convert them into planters for children of the local community to grow plants.
You can watch coverage of volunteer day here:
Speaking about the day, Environment Manager Bugo Nwajiuba said:
"The community day project undertaken at Dings Park highlights best practice in sustainability, where we strive to apply the principles of circular economy to reduce waste in the environment while ensuring commitment to Social Corporate Responsibility."
The SRSA is comprised of Colas Rail, Network Rail and AECOM, an alliance created to deliver a portfolio of works across the southern region of the UK over a 10-year period.