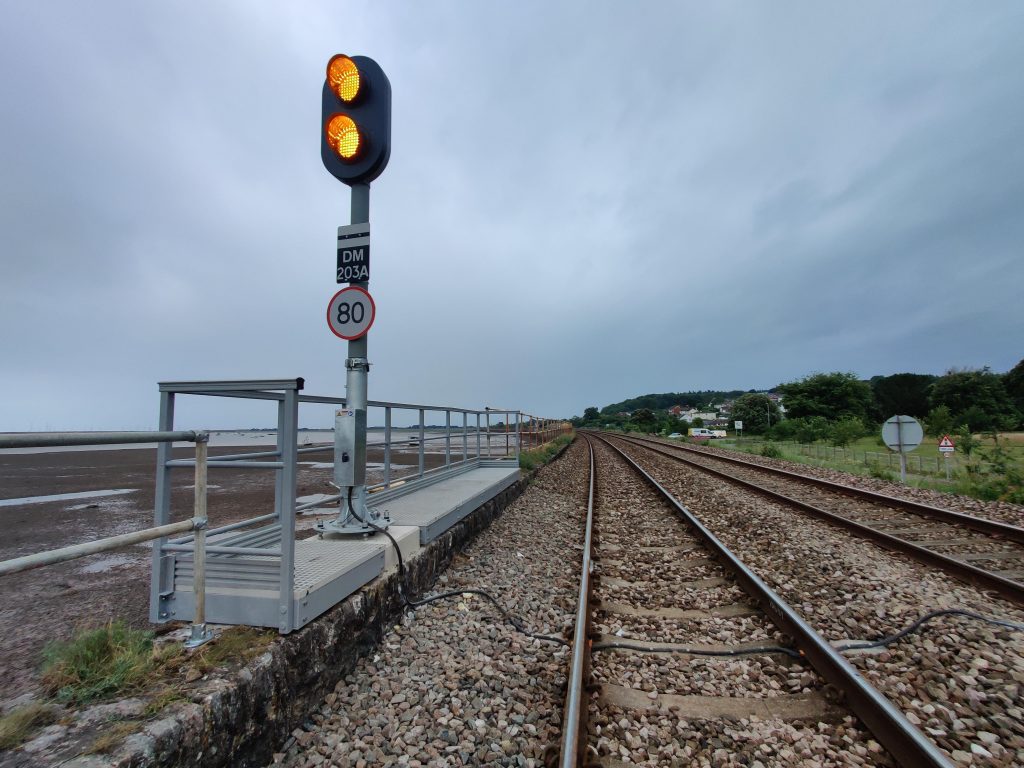 Colas Rail UK's signalling team completed a rapid turnaround to replace a damaged signal
11 weeks from the contract award.
On the 12th February 2021, the signal DM203A, situated near to Starcross Station, Devon, was struck by a boat during bad weather resulting in a temporary signal arrangement being installed by Network Rail in order to keep trains running, albeit at a reduced speed.
Colas Rail UK, working as part of the Western Signalling and Telecomms Framework and as part of our ongoing involvement in the Westbury & Exeter Life Extension Scheme were awarded an accelerated package of works to Design, Construct & Commission a replacement for the signal in order to re-instate full line speed through the area as soon as possible.
From being awarded the contract on the 14th April, we worked alongside Delivery & Design Partners Readypower-Terrawise & Richter Associates to find the best solution with a clear focus on safe installation and maintenance.
The design went through a series of optioneering exercises in order to provide a solution that was both safe to construct and ensured the safety of future site teams providing ongoing maintenance, given the signals position along the sea wall above the River Exe estuary.
The team installed a Dorman ILS folding signal, removing the need for anyone to work at height and incorporated this into a combined GRP walkway and handrail that was able to be installed without the requirement for any staff to work on the face of the sea wall
Speaking about the delivery of the project, Network Rail's Construction Manager, Karl Norman said "It's great to see that Colas Rail UK staff had thought outside the box on the installation and commissioning of DM203A. The installation of a maintainable folding signal and new GRP walkway, thus providing a maintainable area and handrail in one solution. Good work!"
The signal was successfully commissioned in to use on the 27th June 2021, with all works taking place over the course of 3 weekends worth of non-disruptive possession access.