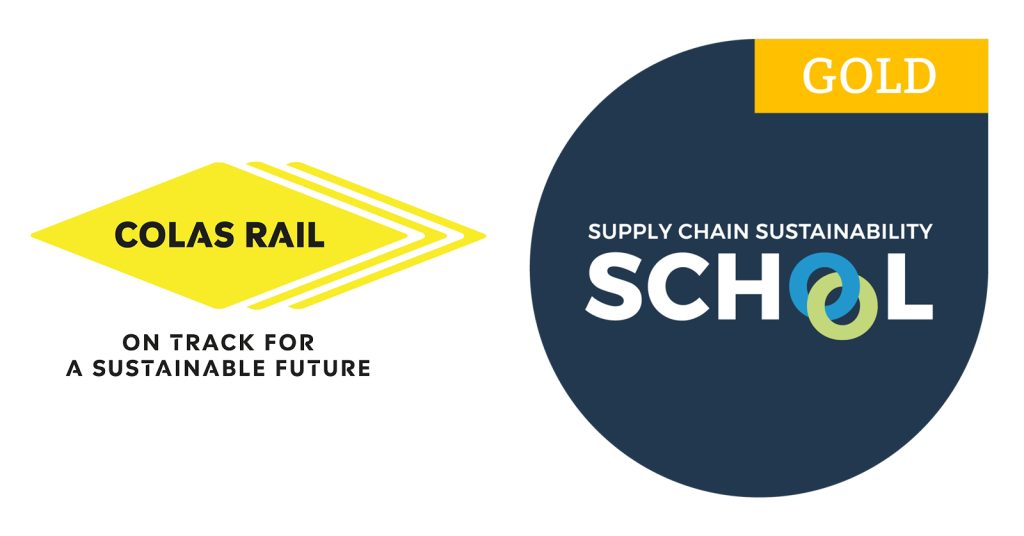 We are pleased to announce that we have achieved Gold Status with the Supply Chain Sustainability School (SCSS).
Joining as a partner in June 2021, Colas Rail gained bronze status in February 2022 after completing our first sustainability assessment. Over the following 10 months we concentrated our efforts on upskilling our staff and improving knowledge in the weaker areas identified by the assessment.
To date, we have 72 active internal members who have accumulated more than 130 hours of activity mainly by accessing the good quality training that is on offer to all members of the school.
72 of our key suppliers are also signed up to the SCSS which has enhanced our ability to engage and collaborate with our trusted supply chain. We have made it an expectation in our Sustainable Procurement Policy that our key suppliers will become members as we aim to maximise the benefits of the school.
On our route to gold, which we obtained in January 2023, we have developed an in-house carbon measurement tool and actively measuring social value both of which improved our sustainability score.
Our intent is to maintain our Gold Status by continuing to access the SCSS resources, engage our supply chain school further in our sustainability journey, continue being active members of the specialist groups and continue to make use of the high-quality training workshops that are hosted by SCSS.
Amanda Porritt, Environment Manager, who champions the use of the SCSS within Colas Rail, said, "We have already used the school to good effect by engaging members of our workforce, but the potential is massive with regards to engaging our key suppliers.
"I like the fact that we can upload our own material and create learning pathways for our suppliers as that ensures that they are meeting our sustainability expectations whilst improving their own sustainability performance".
Paul Taylor, Executive Safety Director said "We're delighted to have achieved the gold status with the SCSS within such a short timeframe, showcasing our dedication and passion for sustainability in the rail industry as part of our strategic objectives.
"I'm glad we can lead by example and that our engagement has seen our supply chain partners also start their journey with the SCSS."