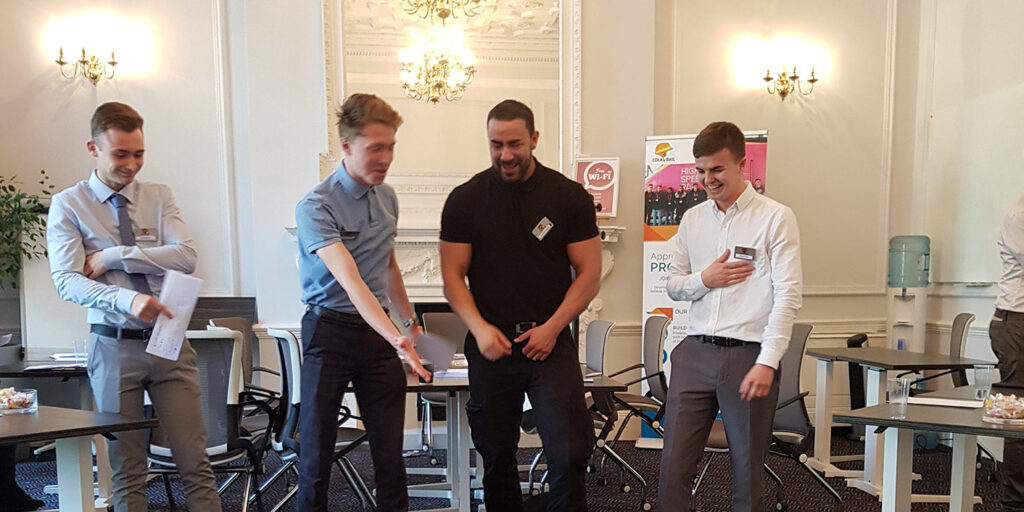 Our Early Careers are on Track for the Future Bridging the Skills Gap
The early careers team held the event at Hemsley Fraser in Victoria.
It was led by Natasha Dixon, Training and Apprentice Manager who did a superb job of organising the event. The assessment team comprised of managers from across the Colas
Rail business who are eager to bringing new talent into the business and bridge the skills gap. The day began with corporate presentations by Gemma Simmonds, Gavin Jones and Will Bryant. They then moved on to the group exercise, The Egg Challenge. (Pictured Right).The goal was to use the equipment provided to ensure the egg which was dropped from height into a box did not break. All within budget of course. Both teams were successful and exhibited excellent team working abilities. After the challenge it was time for speed dating, a chance for all the candidates to meet each assessor and answer their questions, all in under 2 minutes.
Natasha had this to say about the event.
"I am very pleased with how the event went, everything ran smoothly and I think the candidates had fun even though they knew they were being assessed which is great, we wanted them to feel relaxed"When asked about why she thinks the apprenticeship programme is important, she said "It's important Colas Rail offers a Rail Engineering Apprenticeship to help reduce the skills gap in the Rail Industry. It's also a great way to develop skills in both new and existing staff. They have the chance to gain a professional qualification that they can have for life. I enjoy recruiting for the apprenticeship programme and arranging the apprenticeship assessment day. I got to meet some great candidates that have a passion to get into our industry, and see them develop through their journey with Colas Rail."