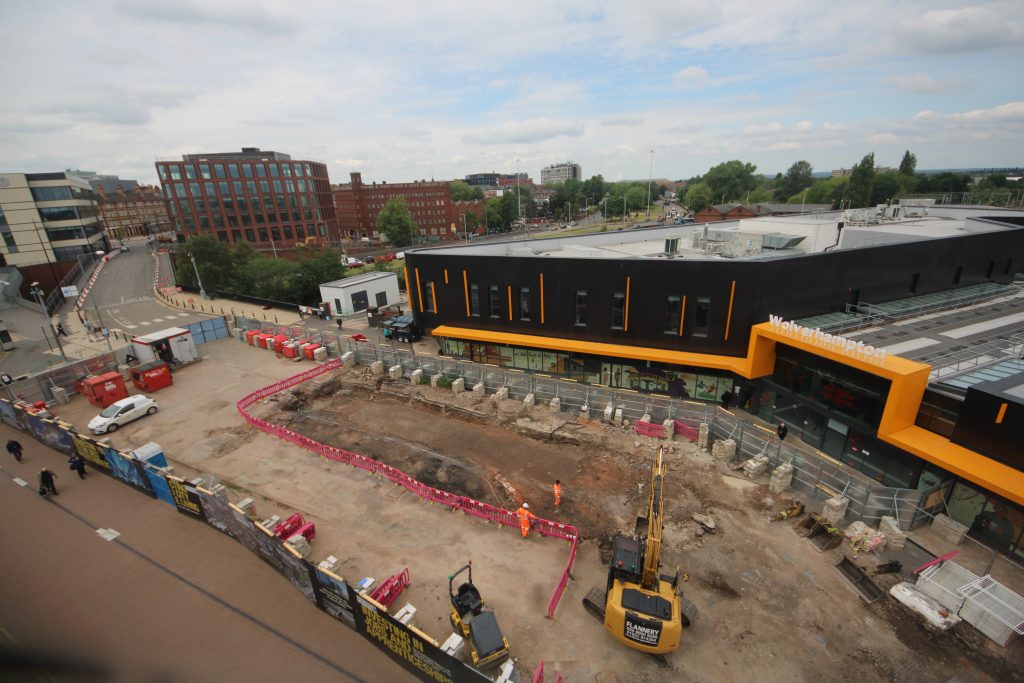 Following the successful commissioning and opening of the second phase of Wolverhampton Railway Station, the Midland Metro Alliance (MMA) have started work to link the station to the tram network.
Utilising the current works compound in front of the new station, the MMA will complete the final section of the Wolverhampton city centre Metro extension to the station plaza, creating a fully integrated transport hub with the neighbouring bus station.
MMA, working on behalf of Transport for West Midlands (TfWM), returned to the city centre earlier this year to carry out a series of works to complete the project ahead of the line opening for passenger service. Further construction activity will take place throughout the summer and winter months, including finishing works along Pipers Row.
Once the extension is complete, West Midlands Metro will serve two new tram stops; one at the city's bus station on Pipers Row and one at the railway station, allowing people to easily change between other modes of transport.
Speaking about the start of next phase, MMA Construction Director, Paul Brown, said: "Following the completion of the new railway station our construction activity has now begun at the Station Plaza in what is a significant step forward for the scheme.
"I am thrilled that these works, to lay the final section of track for the new line are now underway and people can see how much closer we are to finishing. The team have worked extremely hard since returning to the city in March and I am proud of what has been achieved during these challenging times.
"We will have a presence in the city centre into the winter and will continue to work closely with the City of Wolverhampton Council, Wolverhampton Business Improvement District and our partners at Transport for West Midlands to minimise impact wherever possible."
The Midland Metro Alliance consists of the West Midlands Combined Authority, which owns West Midlands Metro; a consortium of design experts from Egis, Tony Gee and Pell Frischmann; and rail construction specialists Colas Rail – supported by Colas' sub-alliance partners Colas Ltd, Barhale, Bouygues UK and Auctus Management Group.