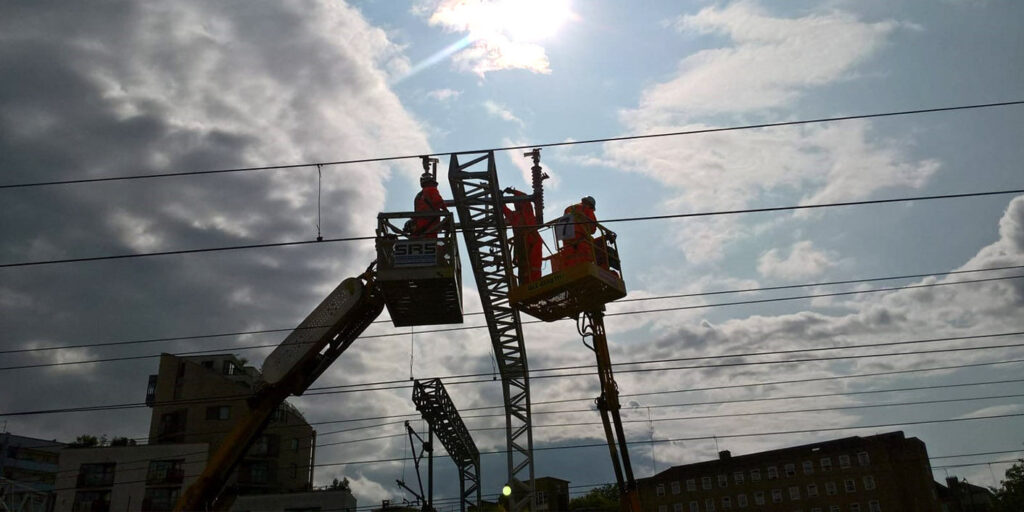 No trains in or out of Euston… That was the BBC news headline every Friday for 3 weekends in August this year. The S&C Alliance Team at Euston took full advantage of the planned closures and delivered complex Overhead Line, Track and Civils works – all of it critical enabling works for High Speed 2.
Over 3 gruelling weekends in the sun, wind and rain the Euston Team installed 3 new piled foundations, installed 4 new Twin Track Cantilevers, transferred and registered 5 wire runs, modified and removed 6 existing overhead line structures, removed all scrap from site via an engineering train and successfully commissioned 2 new overhead line switches within the Euston Throat. None of this would have been possible without the detailed integration between the overhead line and track teams to ensure that track was slued, tamped, re-railed, welded and stressed before the piling rigs arrived on site.
Whilst all the works continued in the Euston Throat, the Euston Team also took advantage of the 3 weekend blockades to achieve some early preparation works within Camden Carriage Sidings. 5 new piled foundations, 1 overhead line structure modification, 4 masts, 1 boom and new driver walkways were all installed without issue.
All works were completed without a single lost time incident and along the way the Euston Team even managed to help the maintainer by positioning a new switch on site with only a week's notice so that it was ready for immediate installation.
In summary, the Euston blockades of August 2018 were a great success, especially considering the challenging and complex environment at Euston and the team are now busy preparing for the Euston Christmas Blockade.