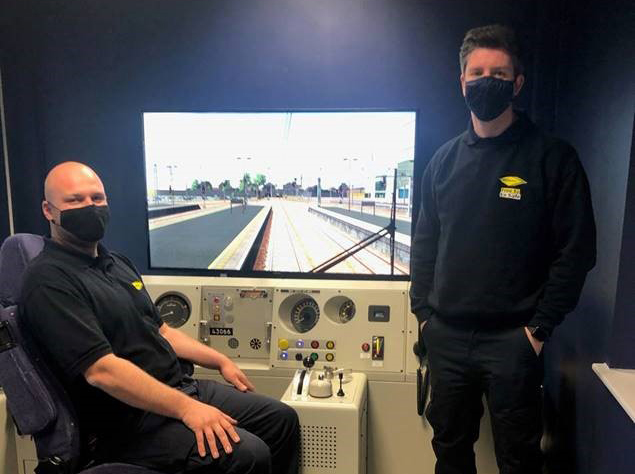 Our first ever crop of Train Driver Apprentices have started on their training and development journey with Colas Rail.
Based in Derby Mark Ainsworth (left) and Ryan Brady (right) will be working in partnership with East Midlands Railway, they'll be using a purpose-built freight train simulator to get to grips with the demands of the role.
On completion of their training the apprentices will join up with our Rail Services team for the next stage of their development in June 2021.
As Train Driver's they will be responsible for driving trains in a safe, punctual and economic manner over various routes throughout the UK in accordance with rail rules, regulations and procedures. Rail environments will vary and include, high speed, freight, underground, metro, suburban, cross border, depots, sidings or maintenance sheds and they could be responsible for moving passengers, goods and empty coaching stock or driving on-track machines to perform infrastructure maintenance work.
Speaking about the start of the scheme, Mark said "It's hard work but rewarding, the trainers are always approachable with any questions we have. I hope to be an effective member of the team and I'm looking forward to becoming a Train Driver."
The sentiments are also echoed by Ryan who said "The training has been interesting but challenging. The amount of rule knowledge and understanding required to be a competent and successful driver is a big step up from all my previous roles within the rail industry."
"However, the trainers are good and take time to explain the more complex aspects."
Speaking on the launch of the scheme, Delivery Manager. Humphrey Willshire added "It's a pleasure to have recruited and manage our first ever train driver Apprentices, I'm looking forward to having them join our team very soon, once they finish up their initial training.
"The very start of what I'm sure will be a long and successful driving career. Hopefully the first of many Apprentices to join this exciting scheme."
Whilst the training is intense, the apprentices will be supported and mentored throughout the training and development lifecycle, we wish them the best of luck!