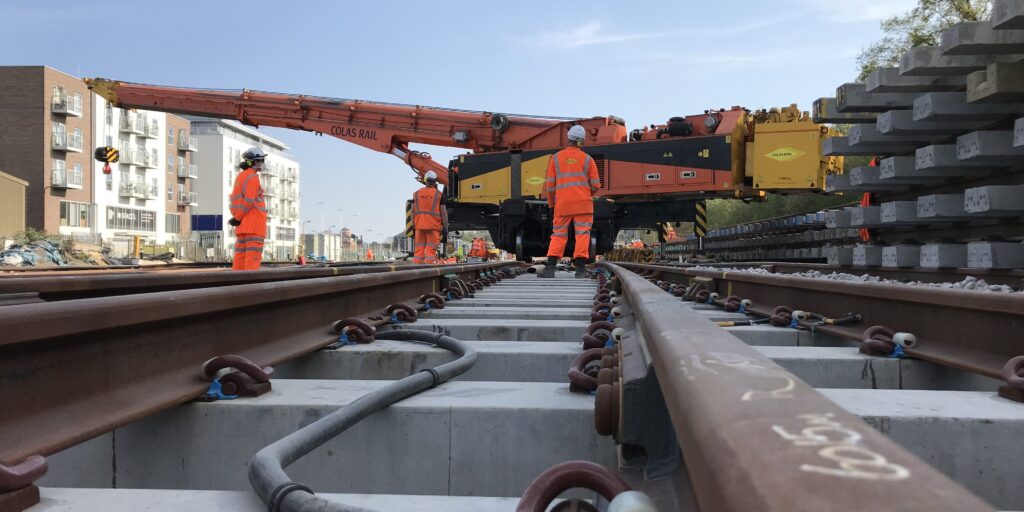 Colas Rail UK's Business Units were mobilised over the Easter period, where they undertook a 10-day blockade as part of the South Rail System's Alliance Track renewal works in Guildford.
Our Strategic Plant team kick-started operations by installing 82 panels, 60 of these were installed over the course of 4 days working with the Kirow 1200.
Our Infrastructure and Signalling teams handed back the line on time and at a line speed of 85mph and successfully installed:
14 HW2000's
2 HPSS's
41 EBI200 track circuit conversions
9 new location units
8 signals
13 TPWS's
2 bidirectional AWS's
17 new tiles for the signal panel alterations
336 joints welded
Site fully stressed
140m of platform modifications
2500m of new ETE cabling installed
The team also upgraded all the points heating on the Switch and crossings, which included 4 new PHCC, 2 LV distribution panels, transformers and new strips. Other works included 40 hours and 1500m of track tandem tamping from two of our Tampers and utilising 3D control and GPS for any dozing related activities.
In total, 4650 tonnes of spoil, 1848 tonnes of sand and 5640 tonnes of ballast were used to facilitate construction.
Network Rail's Senior Asset Engineer, David Norcutt said "A huge thank you from me for the successful delivery of Guildford. It's been a tricky and huge undertaking from all involved and its success it a massive achievement."
Speaking about the challenges on site Operations Manager, David Thomas said "The job was not made easy by the current situation of COVID-19. The team worked hard on the social distancing aspect of this, PPE was worn and even though all staff had been issued bottles of hand sanitisers, we installed a sanitiser dispenser on one of the crane's outriggers so all staff could use it throughout the shift."
The site was also visited by Colas Rail UK's Chief Commercial Officer, James Quinnell who said "The site demonstrated committed and professional subcontractors and 24-hour cleaning from Southdown. Everyone was fully focused on delivering but exercising the required distancing and other control measures. The whole works and visit were inspiring and as humbling as ever."
The South Rail Systems Alliance is made up of Colas Rail UK, Network Rail and AECOM.