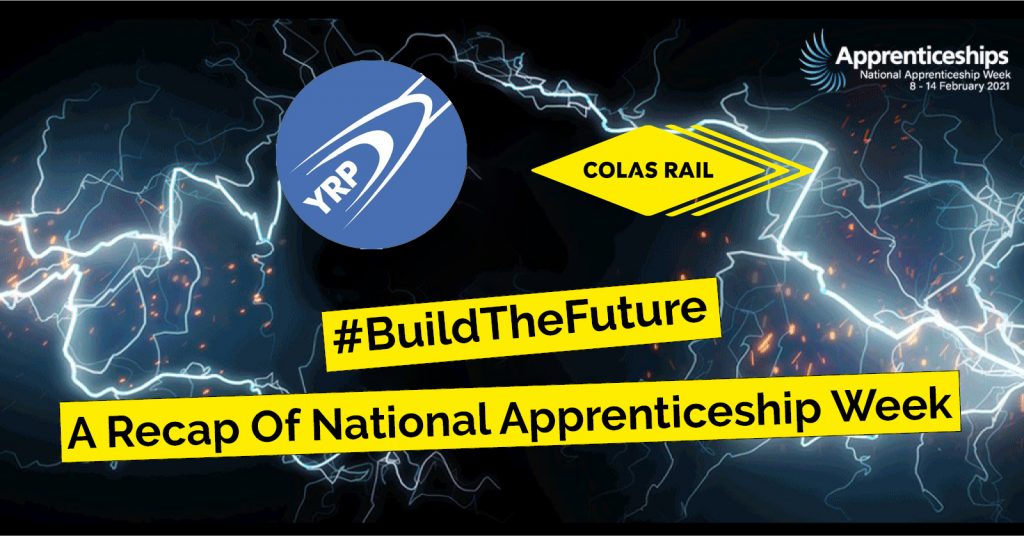 The second week of February was National Apprenticeship Week, the government-driven campaign to celebrate all things Apprenticeships and spread awareness that Apprenticeships are a great way to further your development.

Throughout the week, organisations across the UK recognised and showcased apprenticeship success stories demonstrating the value and opportunities they provide.
The theme for 2021 was #BuildTheFuture, with the aim to encourage everyone to consider how apprenticeships help people to build the skills and knowledge required for a rewarding career.

This year, we collaborated with the Young Rail Professionals (YRP) who interviewed some of our Apprentices at varying stages of their development that were released throughout the week.
Meet the Apprentices
Meet Kaamil, who joined us three years ago after taking on our Level 3 Overhead Line Equipment (OLE) Apprenticeship scheme.
Kaamil talks about the support he has received from the OLE Design team while working on some exciting projects for the South Rail Systems Alliance (SRSA) since starting his journey.
Meet Ellie, who started her rail industry journey just two months ago.
Since she's started her Level 3 Permanent Way Apprenticeship, she's enjoyed a warm welcome and has high hopes for her future prospects at Colas Rail UK.
Meet Cameron, who started his Level 3 Signalling Apprenticeship two years ago. He reflects on his development with the SRSA and what advice he would give to those who are looking to join the rail industry.
For the final instalment of National Apprenticeship Week, a panel discussion was arranged where the YRP got to talk all things Apprenticeships with Gemma Simmonds, Head of Careers and Development and Rich Flanagan, Infrastructure Programme Manager.
Check out the video below for the full interview, the video includes a round-up of all the Apprentices featured (please forward to 13:25 to watch the discussion)
Applications for this year's Apprenticeship Scheme are due to be announced in Spring 2021, for more information on what schemes we offer please visit our Apprentices page.