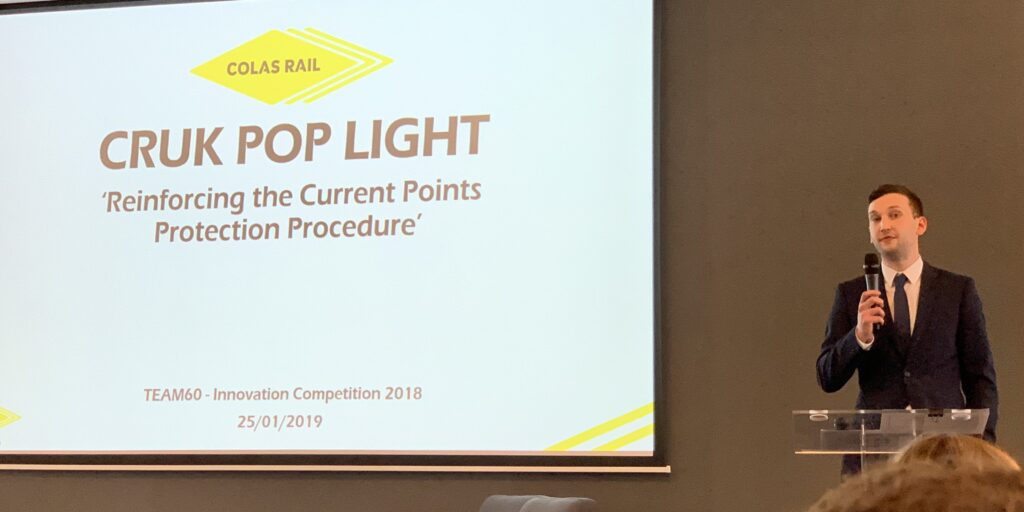 The Colas Rail Group Annual Innovation Competition was held recently and Colas Rail UK came out on top! This year we submitted two entries, the Route Knowledge App put forward by Dave and Candice Leach and the P.O.P light by Thomas Walton and Peter Hills. The P.O.P light came out on top after collecting 29% of the company wide public vote.
So how did the P.O.P (Points Order Protocol) light come about?
While undertaking track renewal works, there is a risk of points run throughs occurring when machines move on site. This can cause infrastructure damage and delays to works completion and hand back to the client. This incurs time and financial cost and causes a safety risk for staff on site.
As a Trainee Signalling Technician, Thomas participated in the Colas Rail Ltd's Safety and Sustainability Challenge in which you identify a safety or sustainability problem, propose a solution and implement it on site. Thomas identified that points run throughs are a significant risk during renewals. Points run through (PRT) incidents within engineering supervisor, person in charge of possessions and/or safe work leader worksites still occur on an unacceptably frequent basis. This is the case despite introducing a number of improvement initiatives to prevent them occurring. A points run through occurs when a movement takes place through a trailing set of points which are not set in the correct position for that particular movement.
The key benefits include:
Reduction in person-hours for the installation of the light. Once the light has been set up at the start of possession, it stays in place until hand back.
Dynamic light production improving visibility.
No clearing is required as the device fits above sleeper height
And much more…
Well done to both teams and congratulations to the pop light innovators!