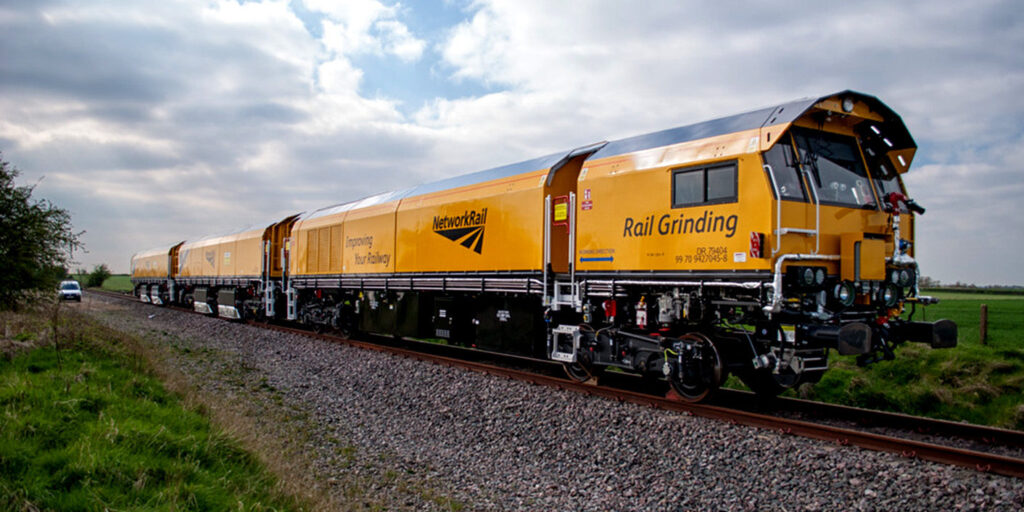 We are pleased to announce that Network Rail has awarded Colas Rail Ltd's Rail Services division the nationwide Rail Grinding contract for the next 3 years.
Network Rail requires nationwide operation and maintenance of Plain Line Rail Grinders to carry out both corrective and preventative rail grinding works throughout the UK across England, Scotland and Wales. Colas Rail will operate and maintain 6 rail grinding machines and deliver almost 1400 operational shifts a year around the clock in 24/7 operation.
Demonstrating its commitment to Network Rail and the delivery of these works, Colas Rail facilitated the introduction of three brand new Loram C44 plain line rail grinders, the largest of which is C44-03, a 64 stone machine that is almost 150m long, into service in 2017, expanding its maintenance depot in Rugby to accommodate the longer machines.
Network Rail's fleet of grinding vehicles cover the entire distance of Great Britain's railway network, removing metal from the railhead to manage the profile and running band, undertaking remedial work covering around 5000 miles per year. This preventative maintenance helps Network Rail to achieve a reduction in the number of railhead defects that could cause surface cracking, which in turn can lead to rail breakages. It also provides improved comfort for passenger services and reduces the likelihood of damage to train wheels.
Jean-Pierre Bertrand, Chief Executive Officer – UK said. "This is a great achievement for the Rail Services division. The award of this contract is a reflection of Colas Rail's team performance, who will continue to deliver safely, on time and as per the required quality. With safety and performance as our key driver, we remain, more than ever, committed to fulfilling our promise to Network Rail."