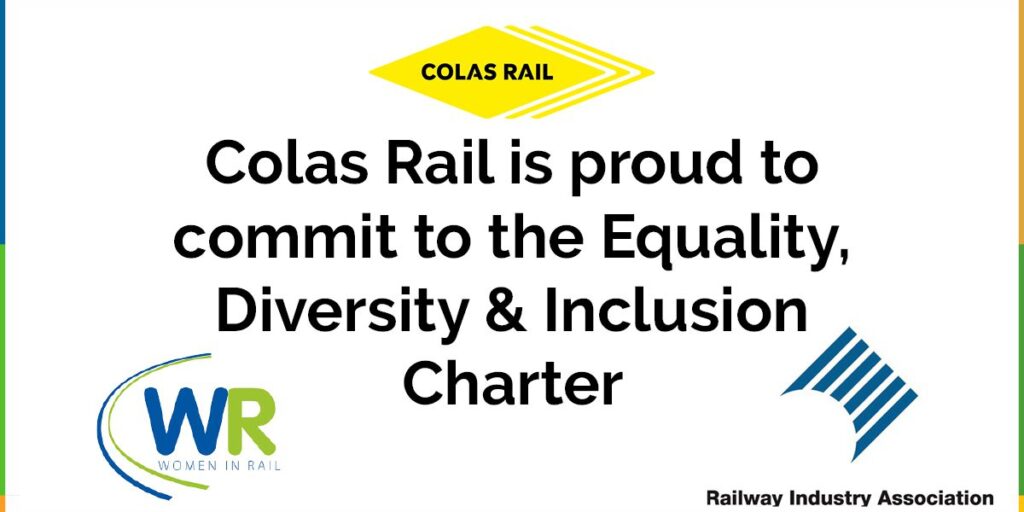 Today we are proud to have signed the 'Equality, Diversity & Inclusion Charter' in conjunction with Women in Rail to support diversity across the sector.
The Railway Industry Association (RIA) and Women in Rail (WR) have launched the Equality, Diversity & Inclusion Charter to champion equality, diversity and inclusion in the UK railway industry. The joint 'Equality, Diversity & Inclusion Charter' is a commitment to work together to build a more balanced higher performing sector and has been backed by over 100 organisations.
The Charter involves several key commitments, including to:
Appoint a member of the senior leadership team as an 'EDI Champion';
Agree an action plan, monitor and report on progress made;
Provide opportunities for training and education of employees, support the progression of diverse individuals into senior roles to improve diverse representation at senior and executive level of the UK railway industry;
Create a culture that fosters inclusion and provide a safe space for all employees to talk openly, including at industry events and in meetings; and
Make recruitment and progression processes accessible and attractive to all to attract retain and develop people of all backgrounds, ages, genders and identities.
Women in Rail Founder and Director Adeline Ginn MBE, said: "The rail industry has worked hard in the last few years to promote Equality, Diversity and Inclusion within its workforce. In these challenging times, it is important we strengthen these EDI efforts to ensure we attract and harness the skills, knowledge and insight from everyone representing all parts of our society and our customers.
"This Equality, Diversity and Inclusion Charter represents our industry's commitment to openly support this agenda and we are delighted to be partnering with the Railway Industry Association, and all the signatories, on this exciting initiative."
Speaking about the Charter, Colas Rail UK HR Director, Smita Patel said: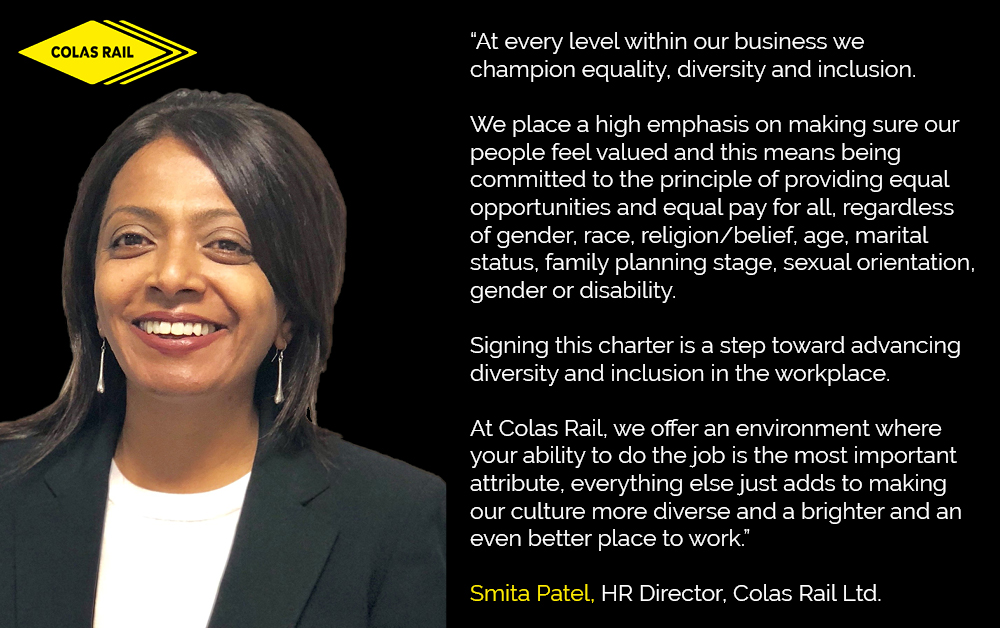 Andrew Haines, Chief Executive, Network Rail, said: "We are proud to be signing up to the EDI Charter in partnership with The Railway Industry Association and Women in Rail along with other organisations. We all have a collective role to play in making a positive change in our industry, so we are pledging to collaborate and take actions that will promote better equality, diversity and inclusion in the rail industry. We have taken some positive steps forward in recent years but still have a long way to go, and together, we can really make the difference that is needed."
Signatories currently include over 100 companies from across the UK railway industry, such as: Department for Transport; Network Rail; RDG; NSAR; Transport for London and Transport for Wales; ORR; BTP; Southeastern Railway; HS1; leading OEMS such as Alstom, Hitachi, CAF and Bombardier; consultancy companies such Atkins, Jacobs, CPMS, Costain and also Birmingham Centre for Railway Research and Education, Rail Alliance, Colas Rail, DB Cargo UK, to name only a few.