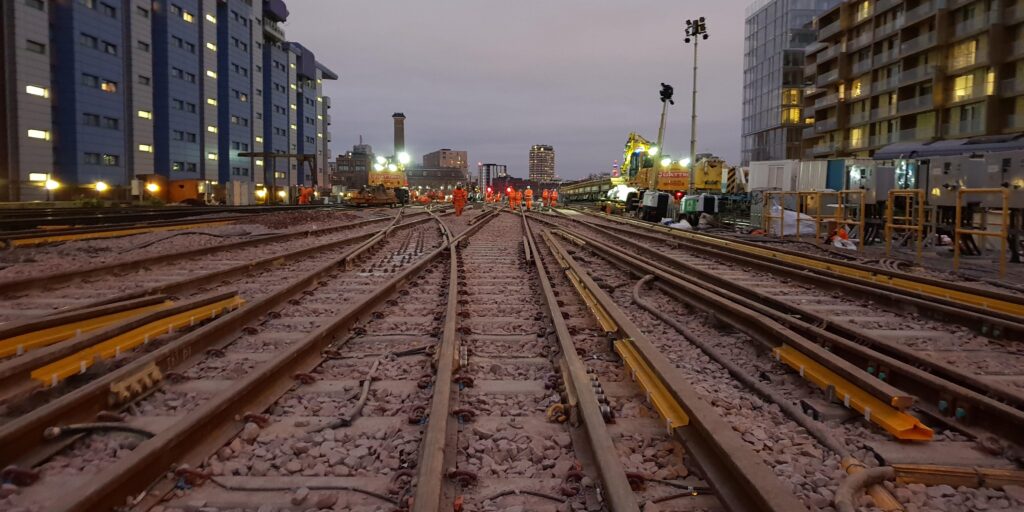 This Christmas, Battersea Pier Junction became the latest focus of intense activity as it was renewed over an 11-day blockade.
Battersea Pier Junction is one of London's busiest. Located one mile south of London's Victoria Station and used by 240,000 passengers each day. The junction contained some of the oldest (dating from 1970s) infrastructure on the Sussex route. There was deteriorating geometry issues with poor top and poor alignment, which was affecting ride quality and could have resulted in potential speed restrictions. The site also included 19 priority rail defects.
The S&C South Alliance (Colas Rail Ltd, AECOM and Network Rail) was tasked with the project. It was not an easy one to plan, given its location is bounded by the River Thames, the site of Battersea Power Station, a 10-storey blocks of flats and a hotel. The works comprised of the replacement of 12 point ends and a fixed diamond crossing, 1,300 metres of plain line track and 1,800 metres of conductor rail, together with replacing 10 point machines and associated cabling and power supply.
The 11-day blockade began at 01:05 on 23 December 2018, with the project's 13 engineering trains already stabled in Victoria station. It was completed on time, accident and incident free, and handed back to operational traffic at 45mph line speed at 23:00 on 1 January 2019. Empty stock proving runs between Victoria and Clapham then took place before traffic recommenced.