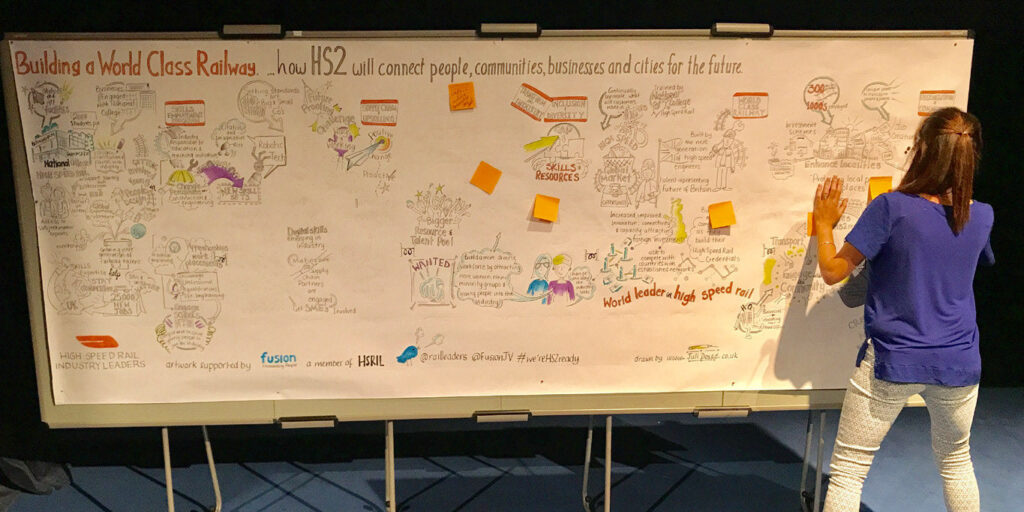 HS2 is high on our agenda and we have been actively promoting our experience and knowledge at various events including the HSRIL (High Speed Rail Industry Leaders) conference. At the HSRIL Conference on the 22nd June Paul Maynard MP for the Department for Transport, High Speed Two (HS2) Limited, announced that by the end of this year, they expect to deposit the bill for the stretch of track beyond Birmingham and on to Crewe and that the preferred route for much of the sections from Crewe to Manchester and Birmingham to Leeds has been confirmed.
Iain Anderson, our Executive Development Director was invited to join the panel discussion at the conference debating issues surrounding High Speed Rail and the Industrial Strategy. Whilst the political case for HS2 has been won the public case and the impact on people and the UK is still to be determined, a greater understanding of how cities will be transformed, how skill levels will be raised, the number of jobs available to local people and new opportunities to be gained are still being discussed.
Enabling works have started and we are keen to get involved in rail systems packages which will come to the market in the near future. Colas Rail aim to be at the forefront of these discussions and we are excited about future opportunities this could bring in the future.
Iain is also on the HSRIL Board of Directors.
Colas Rail has launched its brand new Leadership Programme
Ten of our top leaders had the opportunity to take part in a 5 day "Intensive Leadership Training" course in Hertfordshire, in collaboration with iManage. They were challenged on their leadership style and approach, managing change, and creative approaches to problem solving.
"I was a sceptic at first but this course ticked all the boxes. Not only did we get to network with colleagues and build relationships to make our jobs that little bit easier, Will and Carole (iManage) focused on personal leadership and provided practical tools on how to manage change and problem solve efficiently. I feel that these tools are invaluable in the workplace to effectively deliver at leadership level."
Jenny Simms, Colas Rail, Legal Counsel