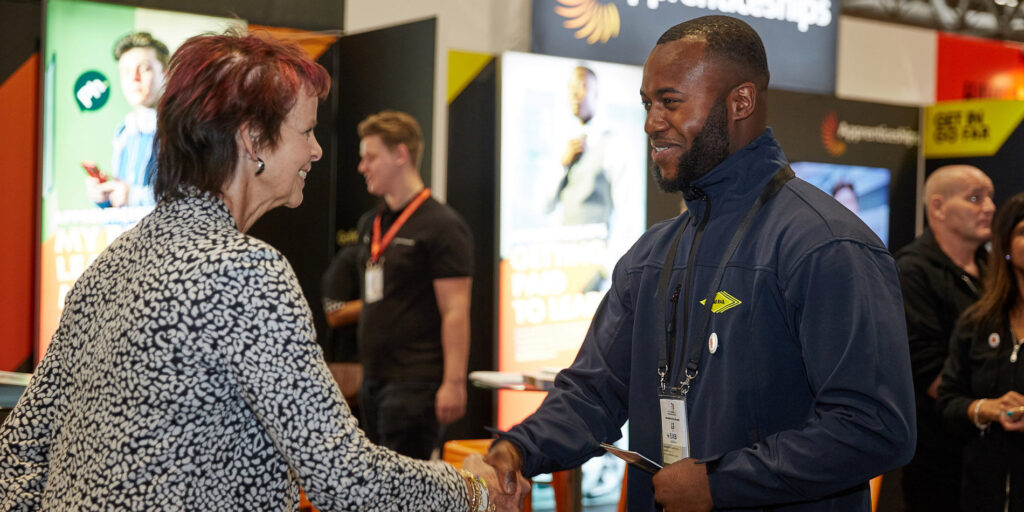 Our Careers and Development Team are part of the Apprenticeship Diversity Champions Network (ADCN), which champions apprenticeships and diversity amongst employers and encourages people from underrepresented groups, including those with disabilities, women and members of the Black, Asian and Minority Ethnic (BAME) communities, to consider apprenticeships.
Colas Rail has pledged to:
Promote our opportunities at University Technical Colleges and STEM focused colleges
Attend careers events at the Sir Simon Milton Technical College
Provide work experience placements for diverse candidates
Establish a mentoring programme for Colas Rail senior staff to provide mentoring opportunities to apprentices from disadvantaged backgrounds
When asked to support the National Apprenticeship Service at Worlds Skills event in Birmingham, Babatunde Olorunsogo volunteered to support the event to talk to young people from BAME and under privileged backgrounds about what it is like to be an apprentice in the rail industry.
Speaking about his journey so far Babatunde shared his story:
Why did you choose an apprenticeship?
I chose to do this apprenticeship because I felt like it would be a great personal investment for my future. I started on the railway as a trackman; I used to see the linesman working on the OHLE, which made me interested in being a linesman myself.
What do you enjoy most about the scheme?
I really enjoy learning about how the OHLE system works and learning how to work in a team. Where do you want to be in 5 years' time?
I want to be a competent OLEC 3 linesman in the next 5 years.
Babatunde is currently in his second year of studying towards his level 3 Rail Engineering Technician OLEC apprenticeship.