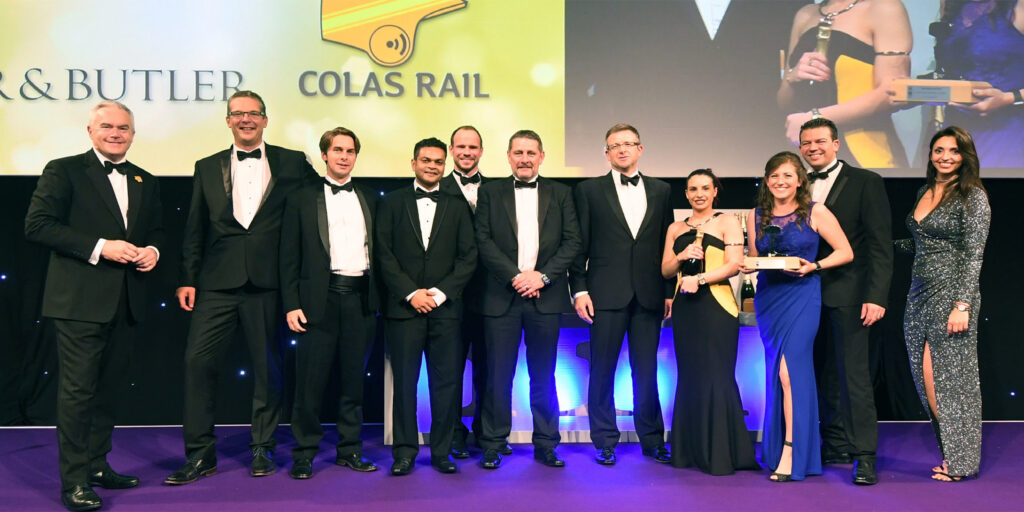 Congratulations to the Health and Safety and IT teams on this achievement, the award was collected on the night by Emil Vincent IT Director, Paul Taylor Safety and Sustainability Director, Joana Duraes SHEQ Data Analyst, Candice Leach Software Developer and Dave Leach IT Development Manager (pictured above).
During the submission process we were contacted by the organisers and informed that two other companies had presented similar apps and we were given the opportunity to work together to deliver a joint presentation, learning from each other and sharing knowledge. This is the first time in this industry that three companies have come together to collaborate in an awards process in this way.
Since our last cascade brief we have been contacted by a number of people within the Group to further share information on our CARL APP, how it works and how they can get access to it which has allowed for further knowledge sharing within the Group.
Rail Magazine wrote: In a first for the National Rail Awards, three separate entries were made for a very similar system, developed completely independently of one another. As such, the judges did not feel it would be right to ask them to compete against each other and asked them if they would consider joining forces.
All three companies had developed an app described as a tool to serve an essential cultural change – to increase the number of close call reports which could be submitted much more easily than previously and can be followed up in real time if important.
The companies recognised that any system which asks employees for too much information when reporting a close call will deter individuals from using it, so they kept the requirements to the 'need to know' rather than the 'nice to know'.
In each app, any report submitted receives an automatic acknowledgement and will receive a follow-up response, the timing of which will reflect the importance and urgency of the issue raised.
Following introduction of the apps, there is evidence of dramatic increases in the number of reports being made.
Judges said: "The industry often faces accusations of being well behind in using modern technology, whether for safety applications or any of the other myriad tasks involved in running this complex industry; here we have three companies which have forged ahead in developing an obviously user-friendly system which is clearly already reaping rewards."
Highly Commended for our Leadership Programme
Our Future Leaders programme received a commendation at the National Rail Awards in the Sustainable Development Category which is high praise indeed.
Well done all!