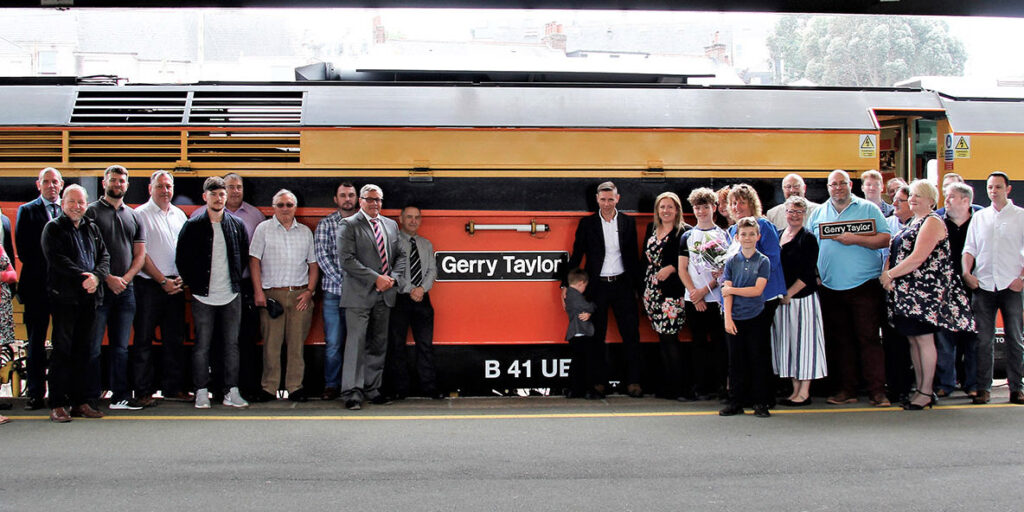 The end of May marked a special event for the On Track Machines team as they held a special naming ceremony for Gerry Taylor at Plymouth Station in memory of his services to Colas Rail and his dedication to the railway industry.
The OTM team was joined by members of Gerry's family, colleagues from Network Rail and the machine manufacturer Matisa to mark the occasion and a good day was had by all with stories of his life shared between people who knew him well during the unveiling of his name on the Matisa Tamper 75407.Gerry was diagnosed last year with small cell cancer and after a relatively short period he finally succumbed to this terrible illness and passed away earlier this year, on the day of the naming ceremony it would have been Gerry's 60th birthday which made it even more appropriate.
Gerry was the Regional Operations Manager for On Track Machines responsible for the whole of the Western and Wales Region, he had worked on the railway for forty years starting first in the S&T department in Scotland in 1978 and working his way up from being an Operator on Tampers and Regulators, OTM Supervisor, Operations Standards Manager and for the last 10 years Regional Operations Manager for Western& Wales. Gerry was part of the management team in Seco who introduced the two Matisa B41tampers in to the UK and these machines were present on the day. We would like to thank everyone who joined us on the day, especially his close family members which included his wife, son, daughter, sister and brothers and Gerry's son in law Simon who currently works as a Team Leader on the Matisa Tampers and carries on his legacy.
Peter Graveling, Plant Director– Services, who gave a personal speech on the day had this to say,
"Gerry Taylor was not only an asset to the team but he was a dear friend to many and he will be dearly missed. The naming ceremony was a fitting tribute to him and this way he will always be remembered."