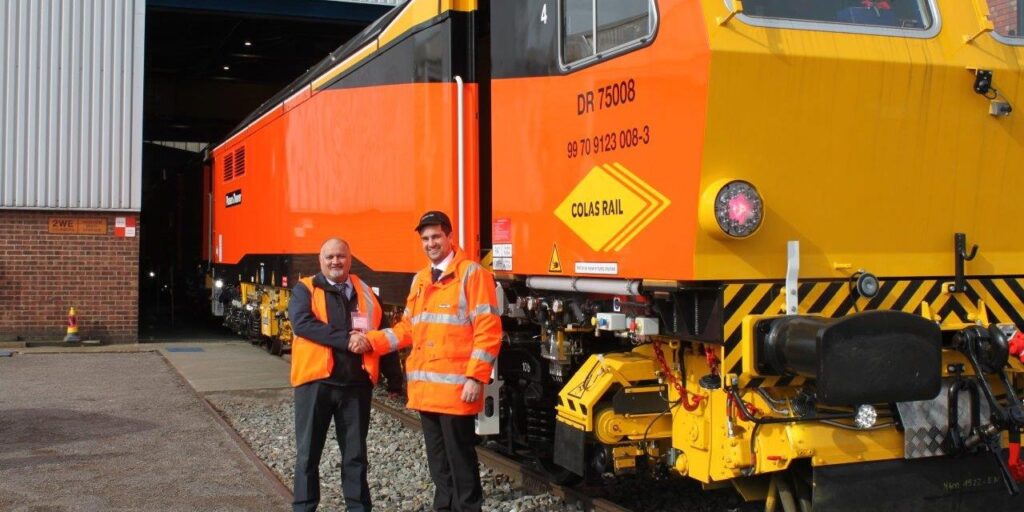 In March we welcomed four brand new Unimat 09-4X4/4S Dynamic Tamper Machines to our plant fleet representing a significant investment and commitment by Colas Rail UK to support our Track Alliance team. The purchase of these new machines allows Rail Services to support Rail Infrastructure in achieving higher handback speeds following track renewal works and saving time and money for our clients.
The new machines boast quite a few impressive features some of which are listed below:
• Continuous action tamping for plain line track and turnouts
• Continuous treatment of turnouts using three rail lifting and four rail tamping
• Four independent tamping units with a total of 16 tamping tines
• Integrated track stabilising unit (DTS)
• The outer tamping units on each side are positioned on telescopic jibs and can be extended for tamping the fourth rail
• Lifting and lining unit with hooks and roller clamps
• Smart ALC Automatic Guiding Computer
• DRP-8 Channel recorder
• On board welfare for the operators (toilet, microwave, kettle etc.)
After the long journey from Austria the Tampers arrived at Plasser UK Ltd (in two parts) where they were joined together and commissioned by the Plasser team. Dave Padley-Regional Operations Manager for Colas Rail and Mark Simmons-Managing Director Plasser UK were on site to manage the handover process. The Colas Rail Tamper teams were also on site to receive the new machines after spending 3 weeks in Germany
undertaking intensive training to introduce them to the new features of the on board computer systems and more specifically the fault diagnostics tools.
How does this machine differ to its predecessors?
A conventional machine would need to stop and start as it "tamps" the track; this machine however maintains constant movement. The tamping banks are in effect separate from the machine (Satellite system) itself making it more efficient and able to carry out tamping while the machine is stil moving. Traditionally relay teams go in and re-lay the track, followed by tamper works, the track will be handed back to traffic at a reduced speed, during this time a train will slow down when it gets to that section of track as a speed restriction would have been put in place. After a few days a tamper will go back in to compact the ballast to bring the track up to line speed – with the DTS being attached to these new machines, we step into a new era of tamping.
Perhaps the most impressive feature of the machine, the integrated Dynamic Track Stabilising system (DTS) at the back of the machine can now treat the track with a downward pressure equivalent to 100 freight trains. Compacting the ballast and allowing for handback at linespeed.
Taking ownership of the new tampers The Colas Rail Team spent a further two days at Plasser UK to undertake Drivers Controls Training, learning about additional safety systems so that any fault identified during transit can be rectified enroute. During the transit from Plasser to Stafford the team was accompanied by an onboard assessor, to determine whether our operators
were competent to drive the machines. Teams were trained on both machines, so that they can operate and maintain them and then assist with the servicing of the machines in the future.
Gareth Purnell, Fitter Operator/Trainer said, "I will be training the second set of
operators on the new machines. It will be a challenge to get our heads around the new machines because they are totally different but in the long run it will be worth it. I am impressed with the welfare facilities; it's really good to have these on board, it will make a big difference to our working conditions."
Mark Murphy – Fitter Operator/ Trainer Assessor for the new machines said, "It's exciting to be one of the first to be passed out on the new machines and Iam looking forward to working with them in the near future."